This is overdue to mention, but better late than never! From the 2020 H5P funded projects, an updated version of Concepts of Biology – 1st Canadian Edition is available in the BCcampus open textbook library.
This new version includes over 80 H5P activities added by Michelle Nakano (Kwantlen Polytechnic University) and textbook co-author Charles Molnar (Camosun College).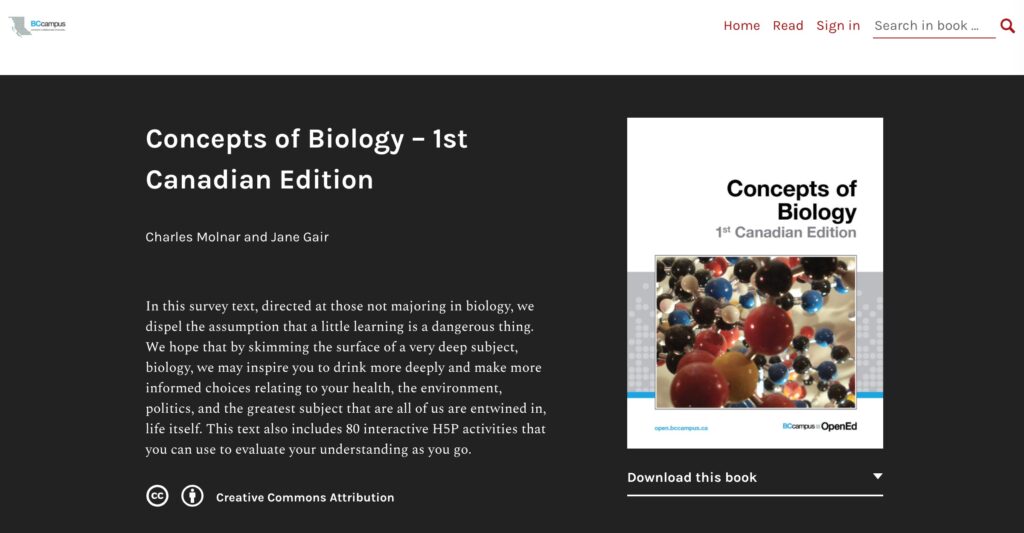 The update includes adding interactivity to the original videos that featured Charles Molnar explaining the concepts using the H5P Interactive Video content type Another outcome of the project is that all of the videos previously hosted on YouTube are now published from the BCcampus media server.
See this example from a section in the second chapter "2.1 The Building Blocks of Molecules":
The project also added to most chapters sets of practice activities organized with the Column Content Type to use a variety of key point review including Fill in The Blank, Multiple Choice, Drag the Words, Mark The Words, and True/False.
See all of the H5P activities added to the new edition of Concepts of Biology- 1st Canadian Edition. As usual, the entry for this title in the BCcampus Open Textbook Directory includes a wide variety of formats (online, interactive PDF, print PDF, Kindle) plus the ancillary materials like all the videos, transcripts, Powerpoint slides, and of course, the H5P.
Again Biology open textbook shows what remixing of open content allows, as this version is descended from the first edition published in Pressbooks by Charles Molnar and Jane Gair that was built upon an earlier version from OpenStax. And itself is available in formats for further reuse and remix.
More titles are on their way to the shelf!
---
Featured Image: Pixabay photo by Dean Moriarty modified by Alan Levine to be cropped, an H5P/PB logo slipped in, and a shelf cleared to include cover of the Vital Signs Measurement and Concepts of Biology textbooks updated as part of this project. This remix is licensed Creative Commons CC-BY