In our kick-off meeting, a few participants expressed interest in getting started resources for H5P as well as ones to help pick among the tools.
We heard you, so this is a starting list, to be added to the resource book we will build as we go.
A major benefit of H5P is that the authoring environment is equivalent in any platform supporting it- WordPress, drupal, your favorite flavor of LMS. The content it creates is a standard format, the .h5p file. Think of it like a piece of self contained media, like a JPG image. You can use that same media in many different platforms, and it functions the same everywhere.
Learn from the Source, H5P.org
The home of H5P has some of the best resources, starting at the overview of content types. Each icon leads to an overview of what the tool can do, demo examples (the creators seem to like things with berries in them!), and links to tutorials for authors (maybe the most useful resource to bookmark).
Most other resources out there reference the H5P tool overview, link to it, or even include the same examples. You know when you see berries.
Learn in the Context of the Tool Itself
The H5P tool itself is connected to the same resources above. When you are logged in and inside the administrative portion PressBooks, the H5P Tools should be listed on the left.
Each tool listed offers an information screen, a link to a demo, and screenshots of what the tool can do (this is the same information available at the H5P site above).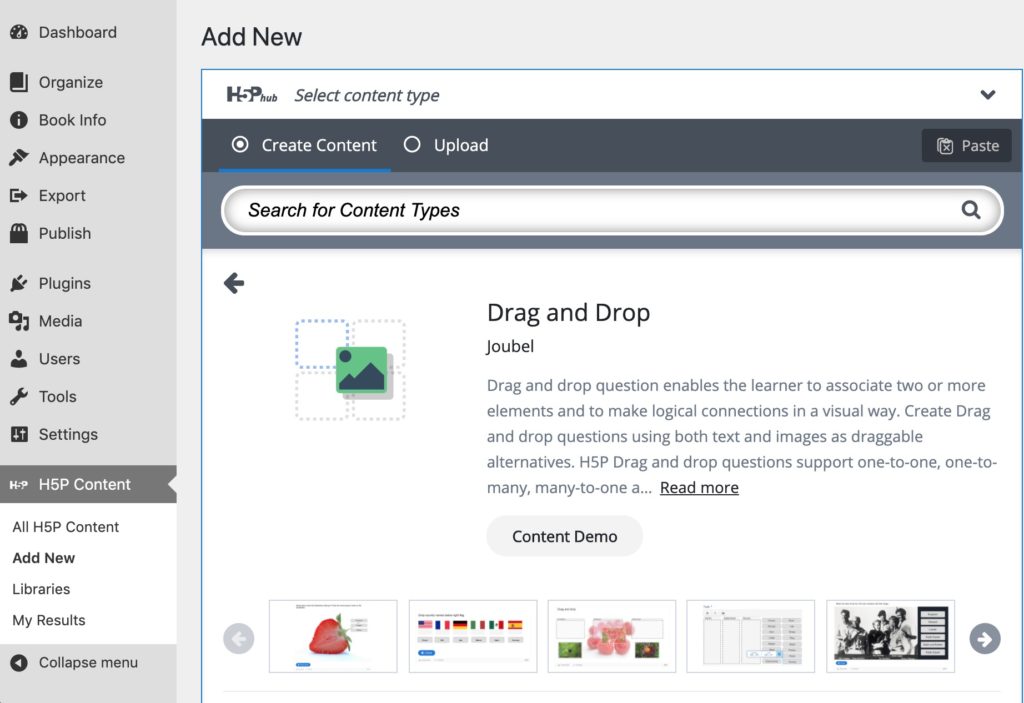 Any time you use the Add New option to create a new H5P content item (or when you edit an existing one), links to the tutorial and the example are available at the top of the screen.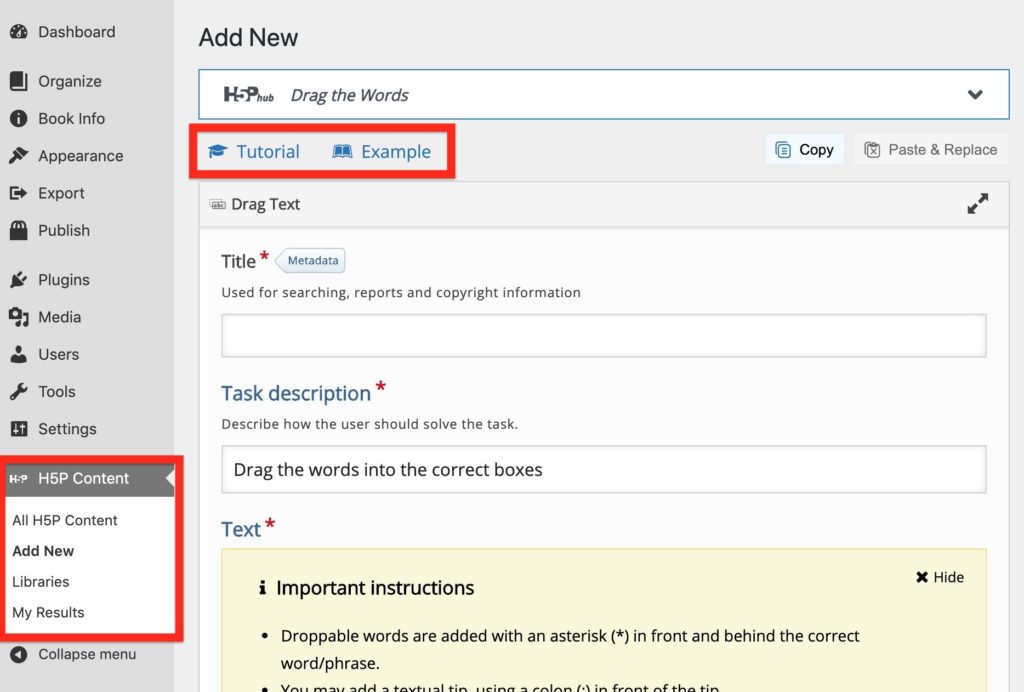 So H5P integrates its own resources and help features directly in the tool.
What Is H5P and Best Practice Tips Guide
See the Getting Started resources from the Wilfred Laurier University H5P Creator site. This was the original site that eCampus Ontario adapted for their H5P Studio, explore the Catalogue for many H5P activities created by WLU educators.
This FAQ style bit of content created with the H5P Accordion content type.
Visit https://h5p.wlu.ca/pages/getting-started also for best practices specific to several of the H5P Tools, itself published using the Interactive Book Content Type.
Desktop H5P Authoring
If you are using WordPress with the H5P Plugin installed (which is what you have out of the box with Pressbooks), the authoring environment is set up for you. But this is the same interface you will find at H5P.org, in drupal, in an LMS set up for H5P.
You can also author H5P content directly on your desktop computer, using the (free) app from Lumi available for MacOS, Windows, and Linux: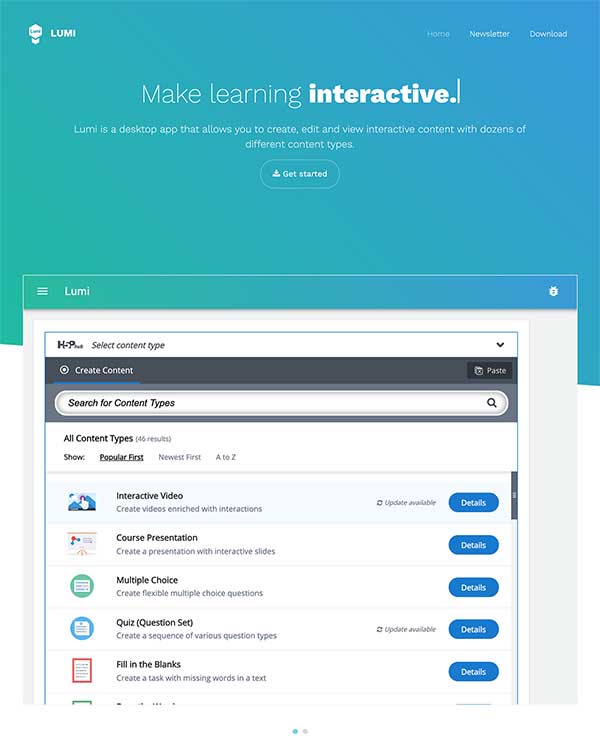 The Lumi app published native .h5p files, which can then be imported into any other environment running H5P.
For more see a more detailed summary we cooked up as Gadgets for Creating H5P.
Adding Interactivity to Pressbooks
Sally Wilson's open textbook from Ryerson University includes an overview of each H5P content type, with original examples, and suggestions for its uses as well as documentation for using H5P within Pressbooks.
See also the Pressbooks User Guide for a chapter on using H5P.
Cooking and Spicing Up OERs with H5P
This workshop hosted here in the H5P PB Kitchen was made for the 2021 Arizona OER Conference (February 26, 2021). It follows up on a keynote presentation delivered a week earlier about the H5P/Pressbooks Kitchen project. These are stand-alone materials that anyone else is welcome to use and are openly licensed under a Creative Commons CC-BY Attribution License.
Hidden Gems – H5P
This resource from the Distance Education Unit at the University of Saskatchewan provides a concise overview of H5P and cleverly uses several H5P content types to explain it.
Easy H5Peasy: Interactive Teaching with H5P Technology (workshop)
See these materials (presentation and document of of resources) from a 90 minute workshop by Michelle De Aizpurua for a 2017 workshop Monash University.
This workshop will take you through the basics of H5P, its benefits and limits, and the wide variety of activities you can create. From quizzes, to games and interactive videos – there's a huge choice of templates, just fill them in! You will then get hands-on building an activity from scratch. By the end, you will have the practical skills to get started straight away on building more engaging interactive content for any purpose.
TRU's H5P Workshop
Thompson River University (TRU) published H5P workshop materials for it's own grant program supporting OER development. The chapter on a Range of Interactives offers another useful approach for tool selection, grouping them in categories:
Tools for Formative Assessment
Tools for Unit Review
Tools for Multimedia Integration
Tools for Student Submissions
They also stress attention to using open licensed media and addressing accessibility issues. Also you will find a collection of worthy examples. You can find in the latter part of the book the activities workshop participants completed.
Organizing the H5P Utensil Drawer
Published on this site, this is the start of an effort to organize the H5P content types in a way suited for this project's purpose of creating practice problems for open textbooks.
We've first filtered out the content types that provide feedback and also consider ways to group them by complexity as well as by multipurpose versus single purpose content types.
It's a work in progress! Give us feedback.
Cooking With H5P (ETUG Workshop)
An October 23, 2020 ETUG workshop from Ian Linkletter, Alan Levine ,and Clint Lalonde framed around this H5P Kitchen Project. Slides, examples, and a recorded archive are available.
Intro to H5P For Mohawk College
This workshop by Peg French is appropriately available in H5P format!
Understanding H5P Content Types and Libraries
This somewhat advanced guide by Troy Welch at Thompson Rivers University can help you understand the content libraries that power the H5P editing experience. You will also learn how to expand it's capabilities by importing other types f libraries, e.g. one that adds LaTeX capability to H5P (for formatting complex math and science equations).
Got More?
https://www.google.com/search?q=h5p+tutorial Searching the web on H5P tutorials produces a long list of results, the majority of which seem to reiterate or link to the h5P.org resources listed above. And most seem limited to the functional steps of how to use the tools.
We hope to find more that cover the design and craft that go into using the tool well. If you have suggestions, please share as a comment or in our Mattermost community.
---
Image Credit: Fresh Start flickr photo by cogdogblog shared under a Creative Commons (BY) license