Many times in this project I have been out there in the giant food warehouse of the internet trying to find examples of H5P content.
One of the many virtues of H5P is that it works in different platforms/systems. This means it's in a lot of places but as far as I know, there's no one-search-tool-looks-at-all approach.
This is the premise of the H5P OER Hub that seems to have been parked a while 85% on its progress bar (though sign up for our October 29 webinar when we will see a demo and learn more).
Until then are my scouting methods…
eCampusOntario H5P Studio
https://h5pstudio.ecampusontario.ca/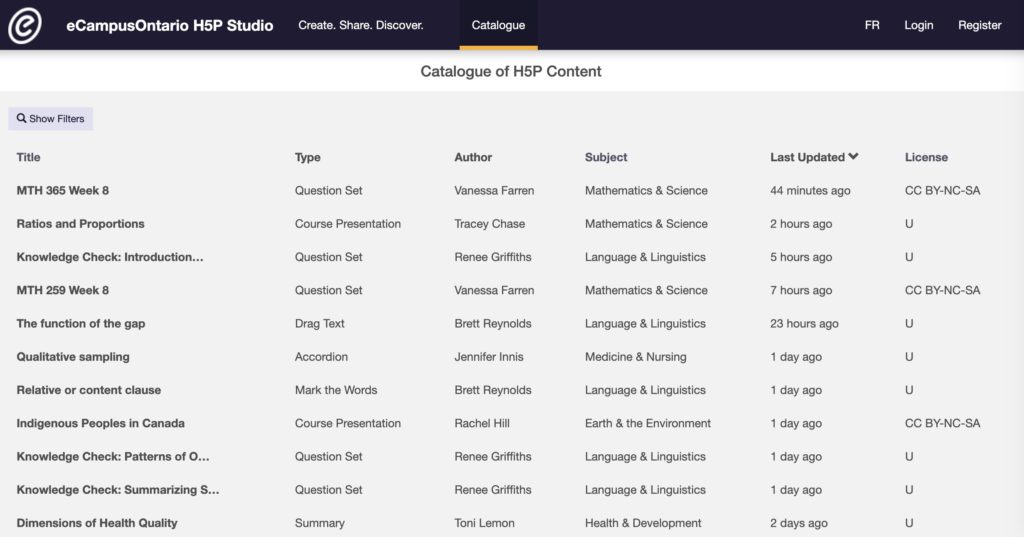 Developed with Wilfrid Laurier University, eCampus Ontario has quite an extensive collection of H5P content that is organized by content type, subject area, and license. I think it has been around since March 2020 (see the announcement).
Yes, scrolling back to the last set in the collection, the first once was entered 7 months ago. And with 20 items per page, at 67 screens worth, that is… over 1300 examples to browse.
While contributing H5P content is limited to educators in Ontario, it's all free to explore. Depending on the license options of the person who uploads one, it's quite open to download and remix (as this is built into the H5P system).
Yes, you can browse page by page (all 67 pages), but the savvy move is to open the left side search tool by clicking "show filters."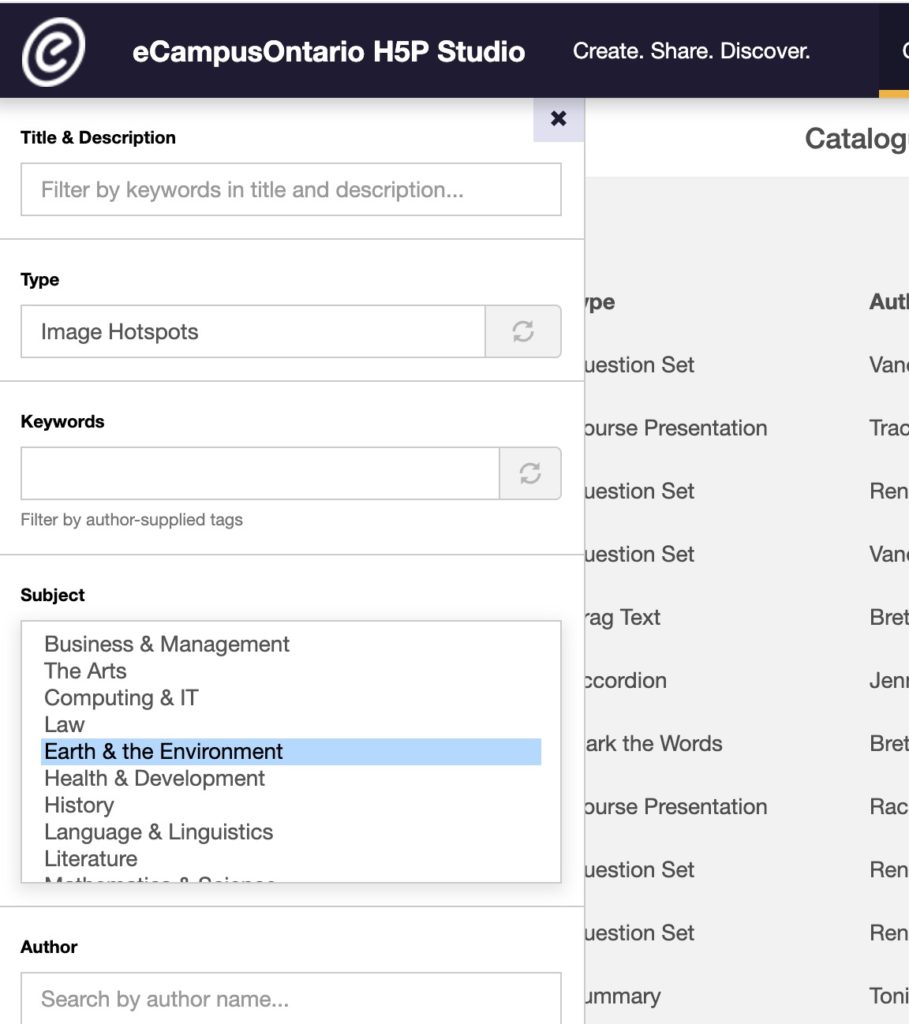 Very quickly I can get to 7 results of using the Image Hotspot in Earth & the Environment. You can also search by keyword in the title, author name, and also filter by license type.
So if you are looking to find examples of what the content types can do, you can make a search just for Branching Scenarios or Agamotta (the 2 search results indicate, well not many people have figure out what to do with this tool. Terry Greene did!).
Another way one might use is to search by discipline, like to show all H5P content created for Law or Medicine and Nursing (way more for the latter than the former).
The H5P Studio is a tremendously useful resource for finding H5P content. It's high on my list of recommends.
Pressbooks Directory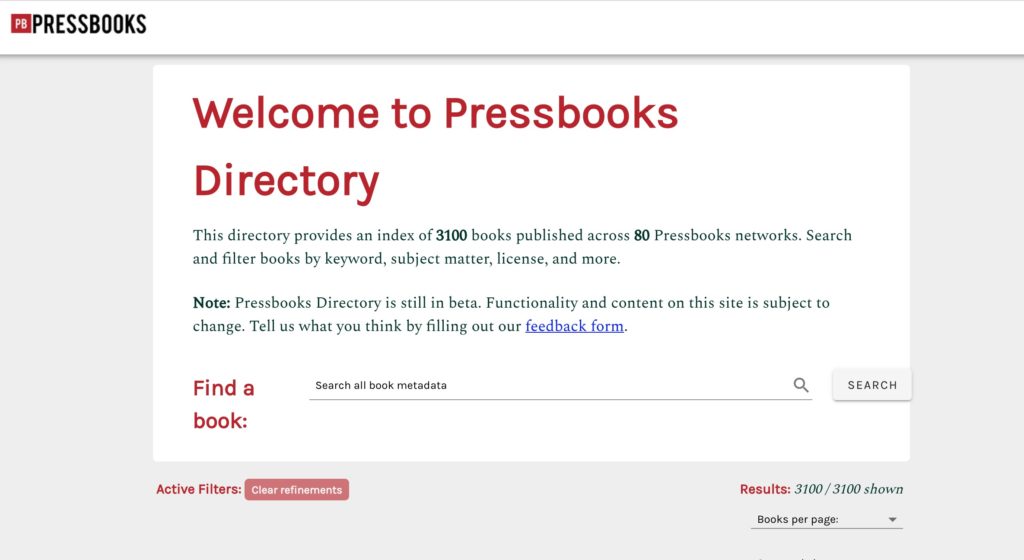 Clint Lalonde shared this site with me when we started the project. On its own, it is incredibly useful for those looking to find open textbooks as it indicates there are 3100 to search from. I am guessing it is some kind of federated search (the reference to 80 networks).
I was not sure if this was a fully public and ready for sharing tool (staging means beta), but confirmed it was okay by message to Steele Wagstaff from Pressbooks.
Update: We initially shared the beta version but now the Pressbooks Directory is publicly available:
There are many many filters for search- by license, modification date, academic subject, word count, file size, and a whole lot more. Just scroll down. And look for this: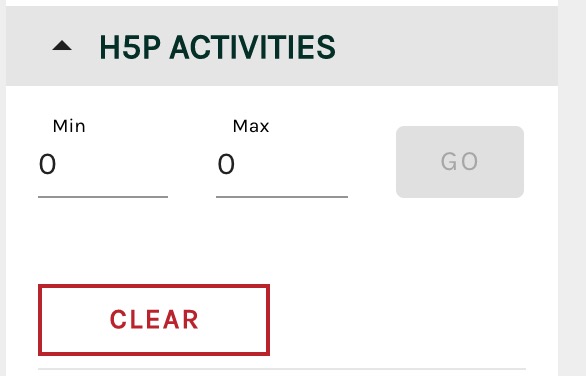 You can limit search to find published Pressbooks with some range of H5P activities. If you are looking for say, anything in Mathematics, select the subject and a minimum of "1" for H5P.
Out of 17 titles listed for Mathematics, I found 3 that had at least 1 H5P inside of it. These are identified in the results with an H5P icon (ironically I know 2 of the authors, way to go Chad and Xinli!)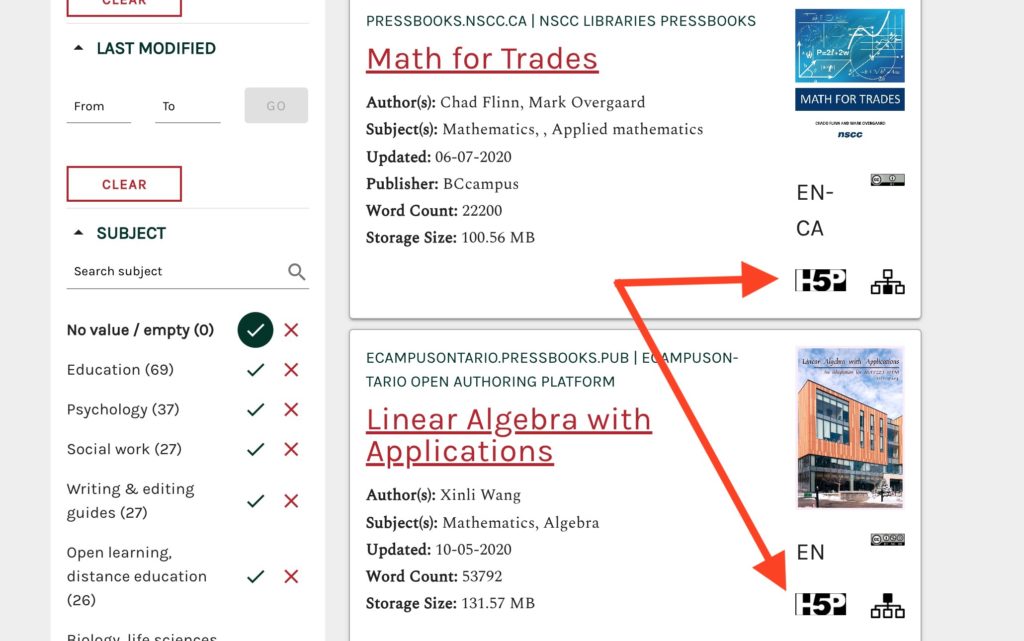 So this is definitely useful to find Pressbooks published textbooks in a given discipline that have H5P content.
Another approach was when i was looking for examples of Pressbooks that had an extensive range of examples (so you are not looking at ones that put in maybe a few Accordions or just a handful of multiple choice reviews).
I found 54 Pressbook titles that had more than 100 H5P pieces inside. How else would I have found Atlas of Renal Lesions in Proteinuric Dogs?
I'd like to think regardless of your interest in H5P, if you are using, teaching, sharing about open textbooks, the Pressbooks Directory is gold. Pure gold.
Update: See the Interactive OER Collection for Pressbooks with excellent use of H5P
The URL Trick
Just tack /h5p-listing on any Pressbooks web address
I thought I found this from the Pressbooks Directory, but then again, I might have noticed seeing this show up in the BCcampus Pressbooks platform we are using. Regardless, this little trick can be used to see how many H5P activities are in any published Pressbooks.
If I had not found it in the Pressbooks Directory above, and maybe just stumbled across the Atlas of Renal Lesions in Proteinuric Dogs Pressbook, I just go to it's URL https://ohiostate.pressbooks.pub/vetrenalpathatlas and slap on the end of it /h5p-listing, or directly https://ohiostate.pressbooks.pub/vetrenalpathatlas/h5p-listing/
Boom!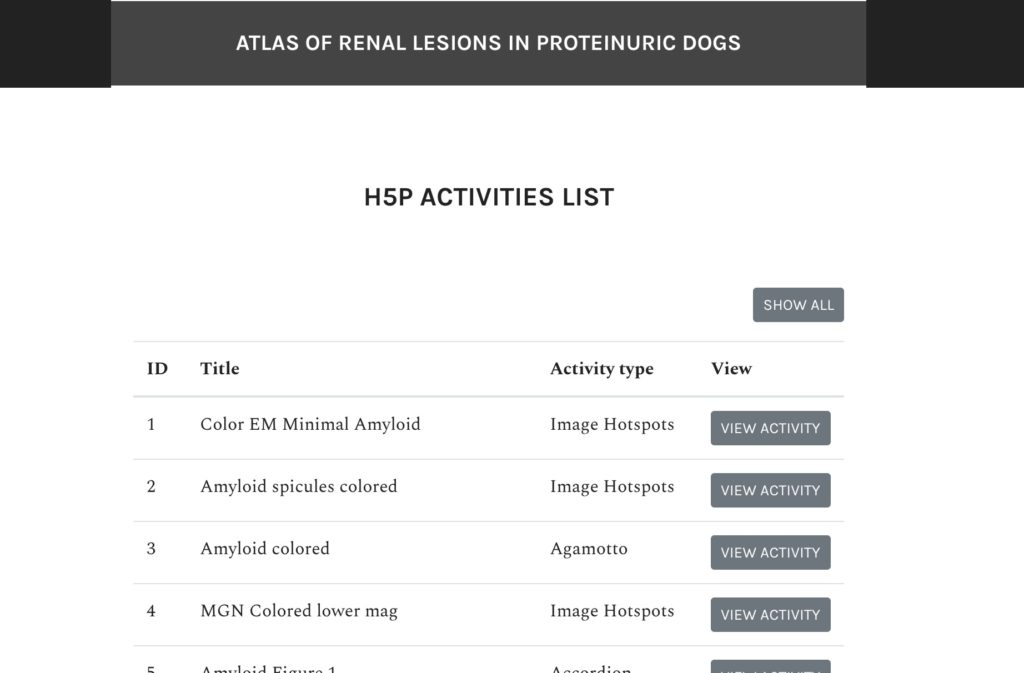 More than that, you can see the activities. Look an example of Agamotto: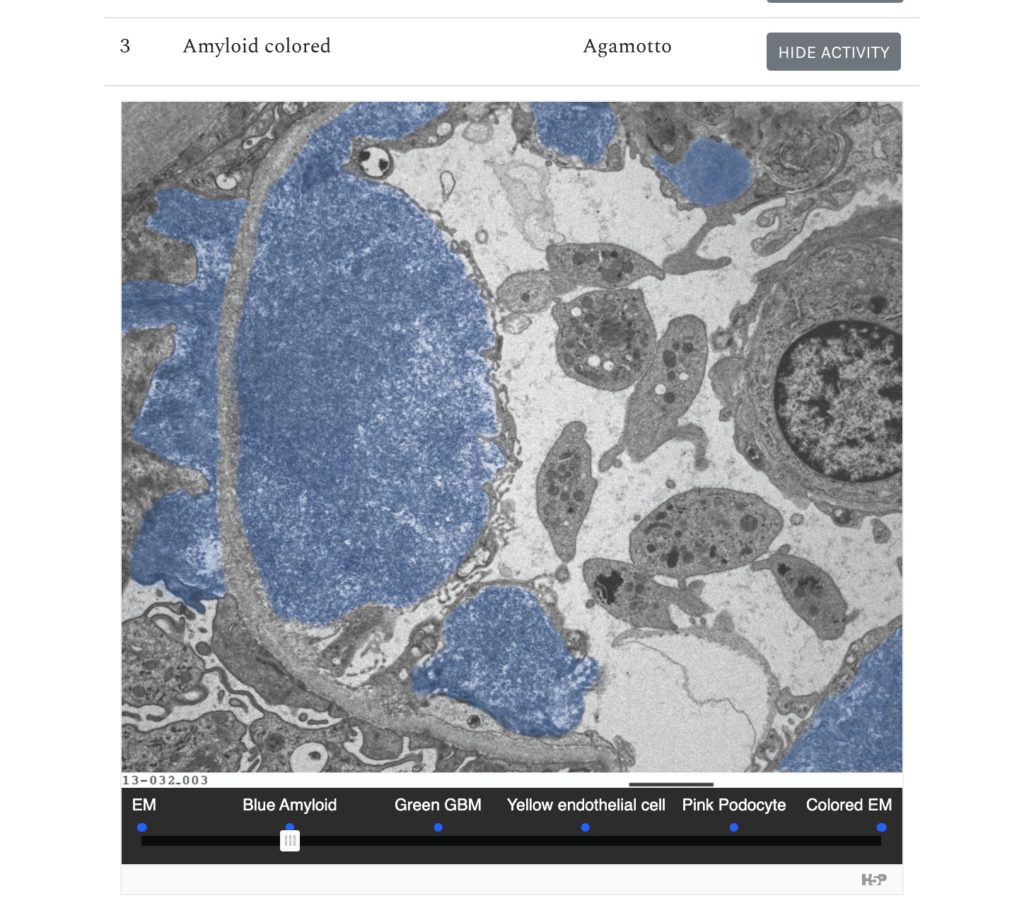 I might have to read the book to know what amyloid spicules are, but this activity lets me see different parts of this image which are colored at the different drag points (hey this Agamotto tool is cool!).
If the authors had published more openly, the H5P content would be available under a "Reuse button", but not everyone wants to share there amyloids.
I know from the Pressbooks Directory above that there are 123 H5P activities in this book. I do wish the Pressbooks interface listed the total number. If I am just trying this URL trick on other Pressbook titles, I do a command-F (find) on "Show Activity" to find out how many there are in the book.
This is all useful, but I do not know the context where this appears in the textbook. This is where another URL trick and knowledge of WordPress (the platform Pressbooks runs on) comes in handy.
Again start with a Pressbooks URL https://ohiostate.pressbooks.pub/vetrenalpathatlas and this time slap on the end of it /?s=h5p, or directly https://ohiostate.pressbooks.pub/vetrenalpathatlas/?s=h5p
This returns a search result for all chapters in a textbook with h5p in it. Hopefully it's not used in the text, then maybe https://ohiostate.pressbooks.pub/vetrenalpathatlas/?s=h5p is better as that will pick up the shortcode used to insert H5P content.
I find in these results a chapter on Amyloidosis – it is loooooooong but eventually I find a lot of Agamotto H5P activities.
Other Options for Finding H5P "Stuff"
Should these two resources not pan out for you, other methods to finding H5P include:
https://h5p.wlu.ca This is the Laurier University Library's H5P repo and the precursor to the eCampusOntario H5P Studio. There are 250+ H5P resources specific to Library functions and services, most of which are openly licensed and re-mixable (suggested by Yasin)
Type the subject and site:h5p.org -forums in any search engine and you'll get results with either links to content libraries (Score!) or the activity itself which you can then download or copy the embed code. Try this google search for psychology h5p (suggested by Allyson)
Explore the examples for each H5P content type from the main H5P.org site (many seem to involve berries).
Got More?
I guess there are other approaches out there, it's the internet age old challenge that leads to pining for repositories. There's old school just asking colleagues, on twitter, in listservs. My hunch is there are more collections of H5P content that is useful for locating examples.
For my purposes, I am looking for examples to show our project participants what is possible in H5P, what is used in different subject areas, or what the different tools are capable of. For instructors creating content, they might be looking for inspirations or even ones to reuse in a particular discipline.
This again is what we expect to see in the new H5P OER Hub. Everything I have heard suggests it will be some kind of search of H5P content created elsewhere, but in a place where you can do searches like I described above.
If you want to know more about the hopefully magical Hub, you should plan to be at our October 29 webinar with the H5P "Top Chef" Svein-Tore Griff who has promised to show the Hub in a demo (yes, Virginia, it will be archived).
---
Image Credit: Unsplash photo by Peter Bond