We have another Cooking with H5P and Pressbooks webinar taking place Thursday, May 27 at 9:00 am PT (check for your local time). Joining us in the H5P PB kitchen this month is Kyle Mackie, a freelance educational consultant based in Guelph, Ontario.
The recording of this session is now available, enjoy!
Links Mentioned in Chat
Questions (some Answers) and Notes From Chat
Here's a question to the ID: can H5P help us move from ADDIE to LXD?

Can you explain your acronyms?
UDL, inclusive learning, LXD, accessibility, xAPI… It's all a package!
Instructional Designer, ADDIE approach (analysis to evaluation), Learning Experience Design.

Apart from the periodic table, we might need a decision tree for "Which content type do I need?"
This is great to see I have been curious about using the documentation tool but haven't figured out how
Is there any way to edit the look and feel of an H5P activity when it's embedded in a service like WordPress, Pressbooks, or an LMS?

Yes, if you are not afraid of CSS: https://h5p.org/documentation/for-developers/visual-changes
question about customization could be in the FAQ… including for Pressbooks! Could soooo use H5P theming to make contents more embedded in Open Textbooks!
There is if you are able to, or know someone, who can code. For example https://h5p.org/node/2692
My sense is that some of the people behind WikiSuite (TikiWiki, etc.) have been putting together some way to customize the H5P CSS to fit specific contexts.

Where do the responses get collected when someone uses the documentation tool?

Can be saved as Word or text file.
Documentation tool – Awesome tool for self-reflection and developing more autonomous, self-regulated learners.
So much more personalized for them! (I had them making their own kahoots & study mate slides for studying – this is another great way for them to take their own notes to study off of and record their key takeaways!)

Kyle do you develop and store your H5P interactives in the commercial platform? Does that offer any advantages or extra perks compared to H5P.org or creating and storing interactives in Pressbooks?

scoring/grading? Grade reports I mean? Any analytics?

To link to Steel's cooking: Hypothesis annotations can contain H5P in some circumstances. So that could be a cool option!
Something which has been discussed a bit in my circle: H5P.com allows for embeds, e.g. in OneNote.
if you have a Learning Record Store, H5P produces xAPI statements for learning analytics, etc. Otherwise, LMS integrations allow for grading and such.
there are ways to integrate H5P interactions with an LMS that allows for H5P activities to be gradable activities in your LMS. The commercial side of Pressbooks does include an LMS integration option that allows you to make the H5P activities assessable activities and assign things like start and end dates and grade schemes to H5P activities.

I get the sense that the interactive book tool is fine for "small" books vs texts on the scale of hundreds of pages…

more like micro-content vs textbook.
A branching scenario within an interactive book? Whoa… That'd be something!

Something people may or may not realize: Moodle has a content bank for H5P content and those activities work the same way as any Moodle activity. Including in giving badges upon completion.
do you know – I teach Decision Analysis – we are always making decision trees – is the branching tool appropriate for this type of problem?

And Branching Scenario will get some nice new features soon: Prevent progression (until some content is "completed") and going backwards.

One point against H5P mentioned here in Quebec: because of connectivity issues, it can be very slow on the learners' side (as it's not optimized).
about image sizes … I wish h5p could have svg and webp images. That saves a lot of memory in loading.

excellent point! Especially since SVG is itself XML and can do animations. Should go well with HTML5!

Kyle can you comment on the use of embedded video from streaming services ie YouTube, Vimeo, Kaltura, etc?

Workaround for Kaltura for institutions who use that service https://kitchen.opened.ca/2020/08/04/switching-youtube-to-kaltura/
yes bit clunky but one of my colleagues made the Kaltura embed work
The workaround is helpful, but I've lost captions from Kaltura 🙁
I guess Microsoft Stream would work in a similar way?
I'm thinking Stream would be tough because of restrictions to org
But, Stream is "supposed" to have more public options on the future so it might be possible later. Maybe…
We need an open alternative to the YT service for OpenEd. Regardless of the engine behind, an open streaming service not using Alphabet's business model would be important. And hugely expensive.

What about screencast-o-matic embed codes?
Meet Kyle Mackie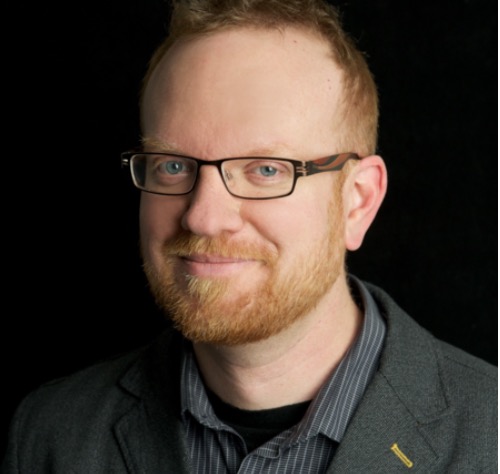 "Hey. I'm Kyle. I'm a freelance educational consultant based in Guelph, Ontario. I get to work with some great people at universities and colleges to help them develop online modules/courses, resources for instructors, and good things like that. I also bake bread, brew beer, grow veggies, ride my bike, play my ukulele, and travel around with my camper trailer. 2 teenagers + 5 chickens + 1 furry dog."
Learn more about Kyle and his recent work and more at https://kylemackie.ca/.
Kyle admits having a "crush" on the H5P Documentation Tool as to him it has lot of potential to help scaffold reflection, providing students and instructors with an online worksheet. Here is an example available at the eCampus Ontario H5P Studio (note his effective use of the H5P metadata available under "Rights of Use").
Kyle has built a few open licensed reusable templates for the Course Presentation Tool, ("which can take a heck of a lot of time to learn"), ones that provide well designed options for interaction:
Kyle believes H5P works well when you can combine different interactions. See his work on the Experiential Learning Toolkit– where H5P is used extensively in the context of a WordPress site. This project was done before H5P released the Interactive Book content type. Recently, Kyle has been cooking up new resources using the Interactive Book content type. As they are still in production (in the oven!) links are not quite available, but he will share them during the webinar.
We will talk more with Kyle about his approach to designing interactive activities and he will share more tips and tricks that he uses in his own H5P cooking.
Registrant Interests
These were collected from the event registration as "hopes to take away".
Some ideas on how to implement H5P in my courses.
I use H5P and have been recommending it for critical reflection as an essential part of Experiential Learning for instructors and advisors. I hope to see some additional, practical applications of this tool for EL.
In-depth understanding of particular H5P tools.
New ideas
new ideas for designing with H5P
Learn more about H5P options
How to make H5P activities look more professional
Samples of interactive activities and practical tips for using H5P.
I'm hoping to see how others create activities with H5P. I have done several for my courses previously but it's always good to see activities from a different perspective.
Learn more about H5Ps
learn how to use the software to enhance our online teaching and how to execute them
Learn how to create interactive curriculum with H5P
I want to learn how to use H5P for formative evaluation in OER
better understanding of interactive additions to courses using H5P
Tips & Tricks
Ideas and inspiration
Some interesting applications of H5P (beyond the "tiny tots" stuff like multiple choice Qs, etc).
More information and ideas on use of H5P tools
How to create engaging content
I would like to learn more about H5P so that I can create my own interactive activities for my online math courses.
H5P tips and tricks
Food for thought while preparing for a Moodle Day session on H5P…
Inspiration.
learn more about the realm of the h5p possible!
ways to incorporate H5P-generated interactive objects meaningfully
New ideas
I'm currently using H5P in an OpenEd text I'm developing. I'm hoping to deepen my understanding of the tool & learn new tricks!
tips for designing online interactive education (both live & module based)
New ideas on how to leverage H5P
I'm hoping to see some templates for questions that can be asked in H5P
Learn how people use H5P and what problems there are still.
Better approaches to the design of H5P interactive activities.
Join us June 24 for our next show.
This event is free and open. To ensure we have an inclusive and welcoming environment for all, we've added registration to our webinars. Please note that it will close two hours before the event.
This notice is to inform you that this session will be recorded, archived, and made available publicly on BCcampus.ca. By participating in this session, you acknowledge that your participation in this session will be recorded and the recording will be made available openly.
---
Image Credit: 1966 Volkswagen Type 2 Camper 3 flickr photo by Jack Snell – Thanks for over 26 Million Views shared under a Creative Commons (BY-ND) license