According to the calendar we are at the tail end of the BCcampus 2020 H5P OER Development Grant cycle. A few of our projects have been granted extensions into 2021 to complete their projects.
After this the textbooks participants have been working on in the BCcampus Pressbooks development site will be migrated to the public facing Open Textbook Collection as updated versions that will include hundreds of embedded interactive H5P activities.
Yes, hundreds. We've kept up a weekly count to show the progress, and as of writing, the five textbooks now include over 800 new H5P content items.
This number will likely grow as the projects wrap up in the next few weeks. Look for our announcement when these five textbooks are available in their updated version, all available for open use/reuse/remix.
But Wait… There is More
As announced at the end of the year, the H5P/PB Kitchen will stay open as BCcampus has opened a new round of applications for five more projects.
The call for proposals is open through January 22 and we look forward to continuing the sharing of progress in this site, in our webinars, and in the open Mattermost Community hosted in the OpenETC coop.
Cooking With H5P and Pressbooks: By The Numbers
As our own review process, here are some numbers and dazzling charts to show our work since July, 2020.
Web Support
This site was created as the home of the project, but also as a means to provide support, resources, and guides to using H5P in Pressbooks. This includes 16 full articles (all listed below)
One area we focused on was enabling participants to use the BCcampus Kaltura server for video content used in the Interactive Video content type. This started with a participant question about inability to prevent the suggested videos at the end when using YouTube videos. Hosting the videos in our own infrastructure fits in the mindset of the project, and reducing the dependency on commercial platforms that track users. We developed our own tool for helping extract the correct link needed for use in H5P.
The videos used in these projects are found in the Open Educational Resources channel, so in themselves, they are an additional outcome of this projects.
Responding to one participants questions about the Timeline Content type resulted in testing and discovery of a few bugs that have been reported to H5P.
We learned this time around that we should emphasize the managing, entering of metadata in the start of the projects.
One of the most useful ways to choose H5P content types and activities is to see examples (beyond berries!) Quite a few site visitors made use of the methods and resources we summarized on scouting for H5P examples.
A small feature of the web site we included early on was adding in the footer a means for visitors to subscribe to email updates of new posts. We have not drawn attention to it, but 21 subscribers are signed up, and quite a few are from outside of BC and Canada (we can see emails from Ireland, Greece, the US).
The Full Menu: Published Articles
Webinars: aka The Cooking Show
Our support included monthly webinars intended to both support project participants, but also to draw in interest from educators anywhere. The first two in July were focused on project participants, logistics, etc, but the following four were open to all.
Our archives include not only recorded videos of the sessions (thanks to BCcampus support for managing as well as adding captions) but also web sites mentioned in chat, as well as questions/answers covered in the sessions.
We were pleased to feature a mix of shows, including expertise in August, instructional design support and example projects shared by Julie Maier and JR Dingwall from University of Saskatchewan as well as the experience of Ontario educators Kim Carter and Marie Rutherford in development of their H5P "infused" medical terminology textbook.
We had a major event in October with the presence of H5P founder and "top chef" Svein-Tore Griff With where we got a demo of the in development H5P OER Hub. November's show featured demos and experiences of the participants in our supported projects.
For a snazzy chart distraction, here's some data on participation in the webinars.
Charts and graphs though do not show how lively these sessions were; we had great exchanges and sharing in the chat. And we saw participation again from well beyond BC, Canada, as the project seemed of interest in many places. Often these were educators with a general interest in learning more about H5P and Pressbooks as well as many experienced developers and authors too.
Count on more cooking shows starting in February 2021 for the new round of projects. Let us know (comments below) if there are topics or projects of interest
Mattermost Community
We set up a community site within the OpenETC's Mattermost for our project, and for the first half of the project this was limited to project participants. A number of them used it to ask specific questions or to message privately for more urgent requests.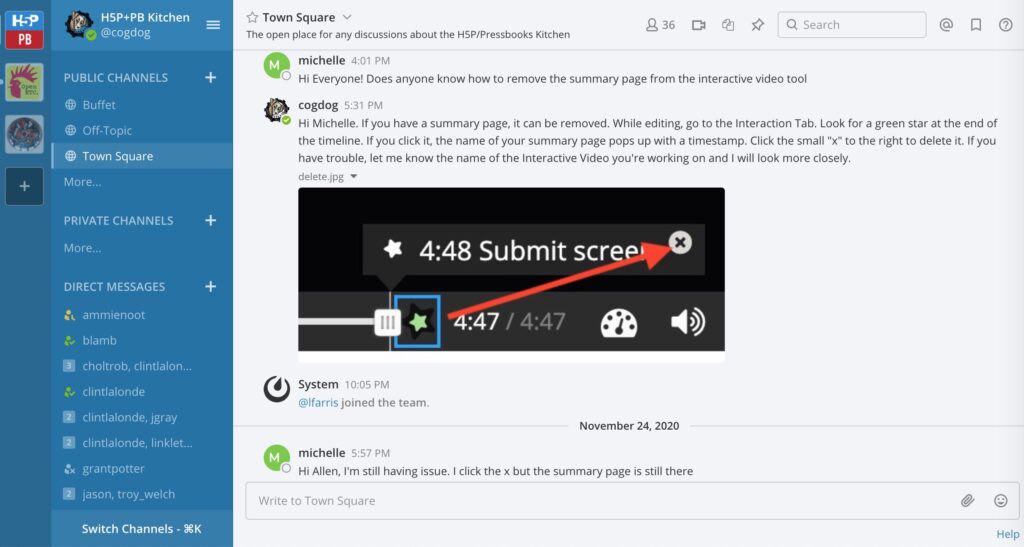 This really is the most efficient means to ask for help or to get ideas, as you have the potential for responses from colleagues and a wider pool of expertise. Still, as many requests that happened in Mattermost came via email.
With the interest in the project from our webinars, we opened the community to be a public one, and we currently have 36 members, more are outside the project than part of it.
Our goal in 2021 is to encourage much more activity in this space, to make it more than just getting tech support, but also a place to help conceptualize use of H5P, share examples, etc.
This community is open to anyone, not just people in BC. It's an open source software that has all the functionality you may be familiar with from Slack, Teams, but no corporate ownership. It is provided as a service by the OpenETC.
Join here https://chat.opened.ca/h5p-support
What's Next?
We will be reviewing the applications for the open round of project funding (apply now!) and anticipate announcing the new projects February 8, 2021. Also look for news here when the first round projects are available in the BCcampus Open Textbook Collection.
And I have a few more tip articles in the queue as we look forward to preparing the next round of H5P/PB cooking.
Want to keep up? Sign up for email updates below and/or join the Mattermost community. It's like being close to the savory aromas in thr kitchen.
---
Image by Gordon Johnson from Pixabay